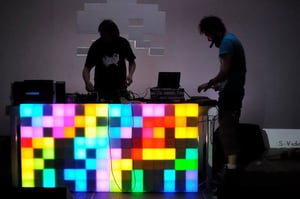 €

189.00
Start your own PixelInvader today!
You get 70 RGB Led pixel modules (only 64 are needed for a PixelInvaders Panel) and detailed assembly instructions to create the housing, wire up everything and setup the software. Multiple PixelInvaders panels can chained together. The PixelInvaders panels are connected by USB or via network.
PixelController is the software to drive one or multiple PixelInvaders panels. PixelController can be controlled via computer, via smartphone/tablet or via script. You can send your own visuals to PixelController (for example using Processing) or use the capture mode (for example send a YouTube video to the PixelInvaders panels).
See http://pixelinvaders.ch/diypack for more details!
Technical details about the LED Modules: Each pixel module is digitally controlled with an internal 5-bit PWM LED driver (15-bit color for 32,768 different shades). The pixels must be clocked by a microcontroller like an Arduino or Teensy. More details:
20 pieces per strand
15bit color
12V power, max. 60mA
each pixel module uses 3x a 5050 surface mount RGB LED
70 modules weigh approximately 1100 gramm. Shipping costs include PayPal commission.