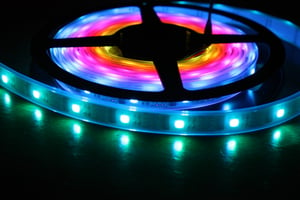 €

159.00
SOLD OUT - USE THE CHEAPER WS2811 LED STRIP
Enhance your living room by creating a StripInvaders today!

You get
5m
(1m costs less than 36€) digital addressable RGB LED flexi strip. This means you can control 160 different LED pixels. The strip must be clocked by a microcontroller like an Arduino or Teensy. More details:
32 LEDs per meter
32 WS2801 controller IC per meter
24bit color
5V power, max. 100mA per LED
Removable IP66 waterproof casing
Mount Kit
Packaging: 5m/reel in antistatic bag
Source on Github: http://bit.ly/u30T6i
Shipping costs include PayPal commission.